1. 2021 Chery Tiggo 7 Pro vs Geely Coolray Sport: Which gives the most features for the price?
Unless you've been living under a rock, you'll know that the crossover market has boomed to epic proportions in the past few years. Here in the Philippines, more and more manufacturers are coming in and introducing exciting and affordable new models to eke out a piece of the crossover pie.
A formidable contender in this segment is the Geely Coolray. The model managed to cleave out a sizeable chunk of the crossover market since its introduction in 2019. Geely sold 154 Coolray units in June 2020, climbing up to 292 the following month. In August, that number surpassed the 1,000 mark.
2021 Chery Tiggo 7 Pro versus Geely Coolray Sport Comparison Review
On the heels of Geely's surprising performance in the local market, another Chinese car company staged a comeback. This was Chery Auto Philippines which returned to the local market in 2020, matching Geely's offerings with its own all-crossover lineup.
The latest of these is the Chery Tiggo 7 Pro 1.5 CVT which Chery released in January 2021. Being no slouch in terms of onboard tech features itself, the Tiggo 7 Pro is positioned to do battle with the Geely Coolray Sport 1.5 DCT. Which of these subcompact crossovers takes the cake?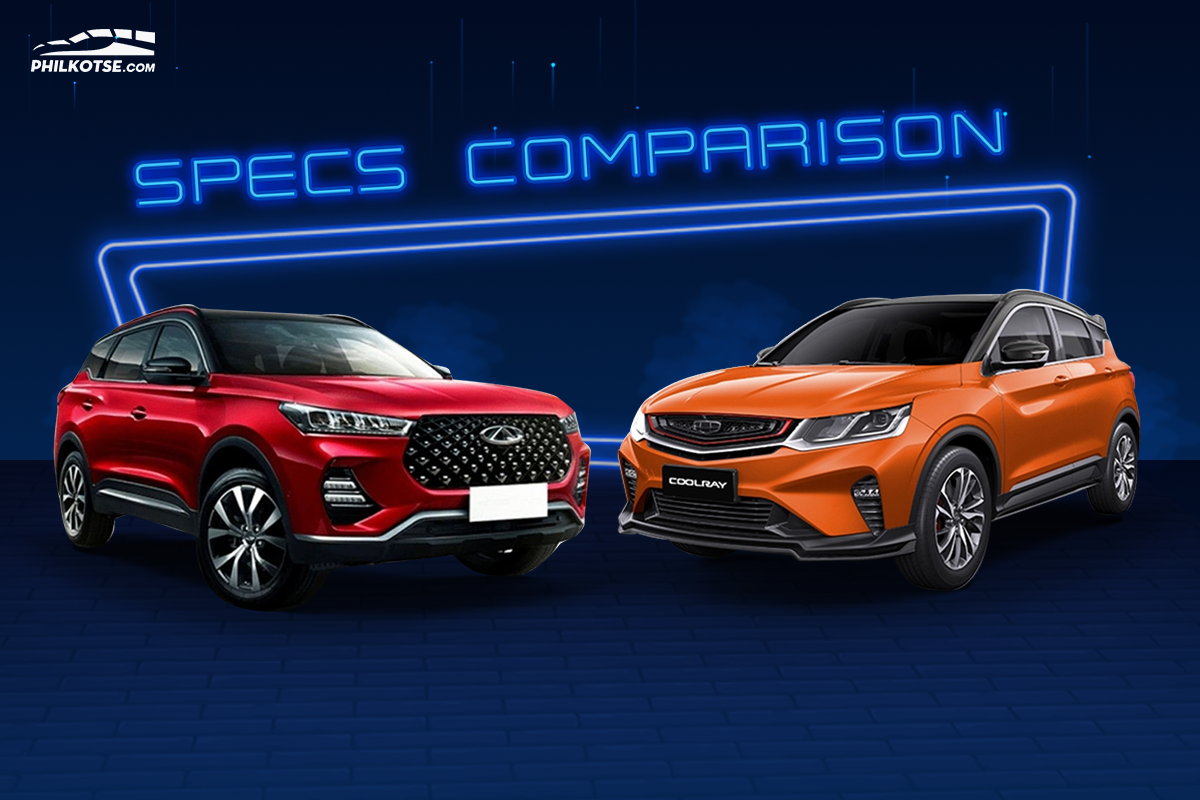 Let's find out which crossover is better on paper
2. 2021 Chery Tiggo 7 Pro vs Geely Coolray Sport: Exterior
The Chery Tiggo 7 Pro measures 4,500 mm long, 1,824 mm wide, and 1,746 mm in height. It has a wheelbase of 2,670mm. The top-spec Coolray Sport, on the other hand, comes in at 4,330mm in length, 1,795mm in width, and 1,609mm in height, with a wheelbase of 2,600 mm.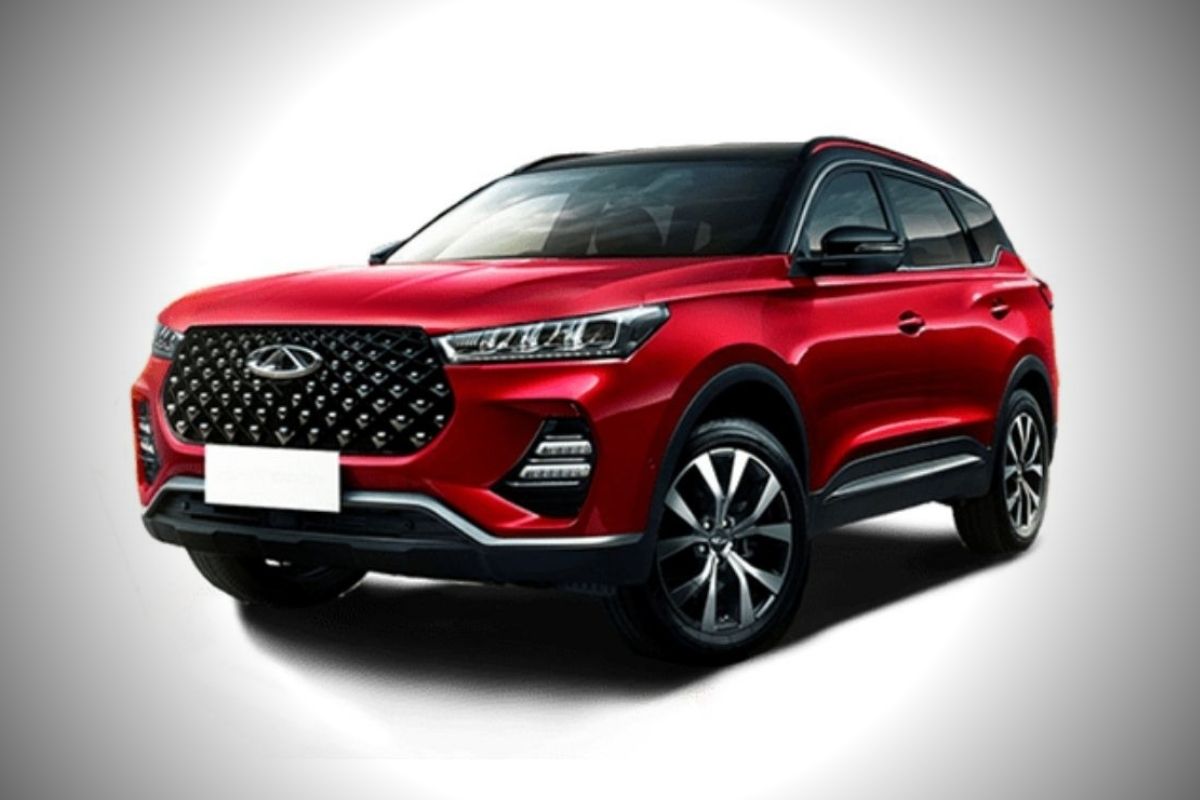 The Chery Tiggo 7 Pro has a more mature, but still adventurous look to it
To sum things up the Tiggo 7 Pro is 170mm longer, 29mm wider, and 137mm taller, while adding an extra 70mm between the front and rear wheels.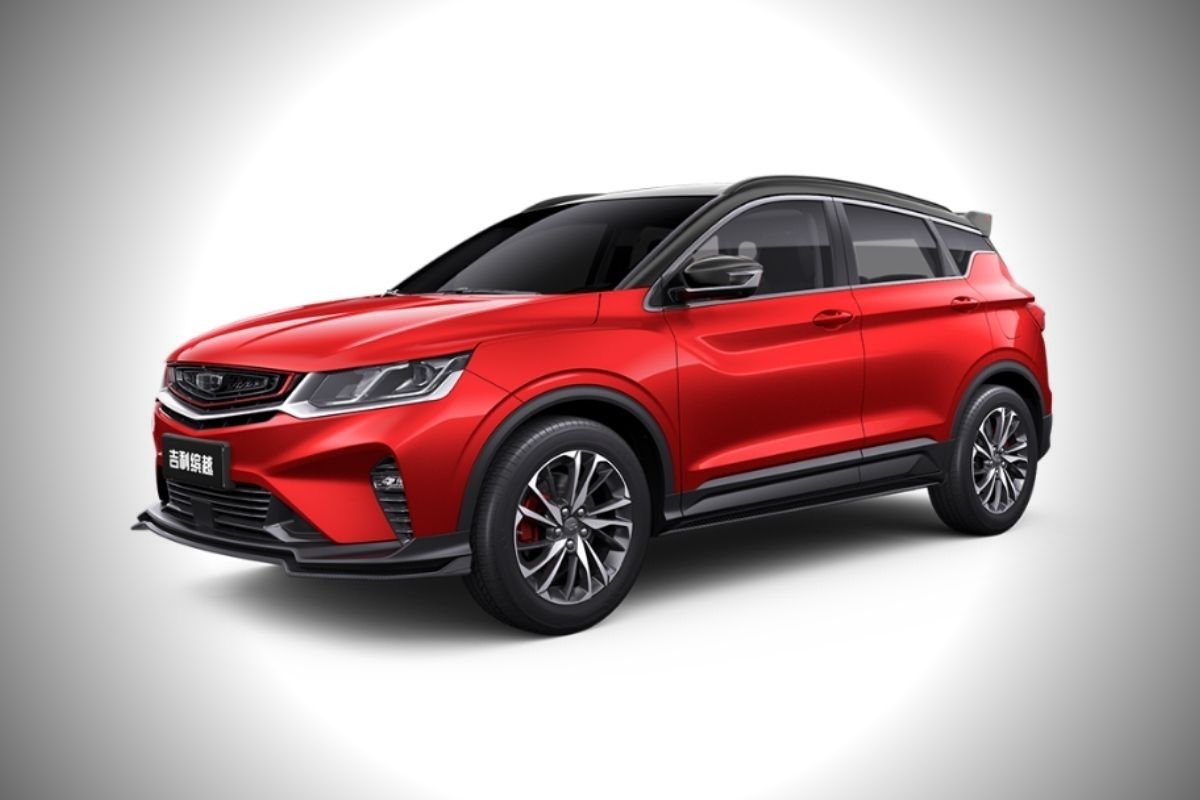 The sporty, and youthful Geely Coolray
A 196mm ground clearance gives the Geely a more athletic stance, while the Chery's overall bigger dimensions allow it to have a more substantial presence while sitting 33mm closer to the pavement.
Both models come standard with LED exterior lighting (with the exception of halogen turn signal lamps on the Coolray), front fog lamps, power-folding side mirrors, and rear spoiler. They even share the same rising beltline kink beyond the C-pillar. A set of 18-inch alloy wheels is standard between the two.
Which has the better-looking side profile? The Chery Tiggo 7 Pro (left) or the Geely Coolray (right)?
Inside, both the Tiggo 7 Pro and Coolray Sport have room for up to five occupants using leather-covered seats. Driver's seats are equipped with power adjustment, and the steering wheels can be adjusted for reach and rake. To keep passengers comfortable even on hot summer drives, climate control is via automatic air-conditioning with rear vents.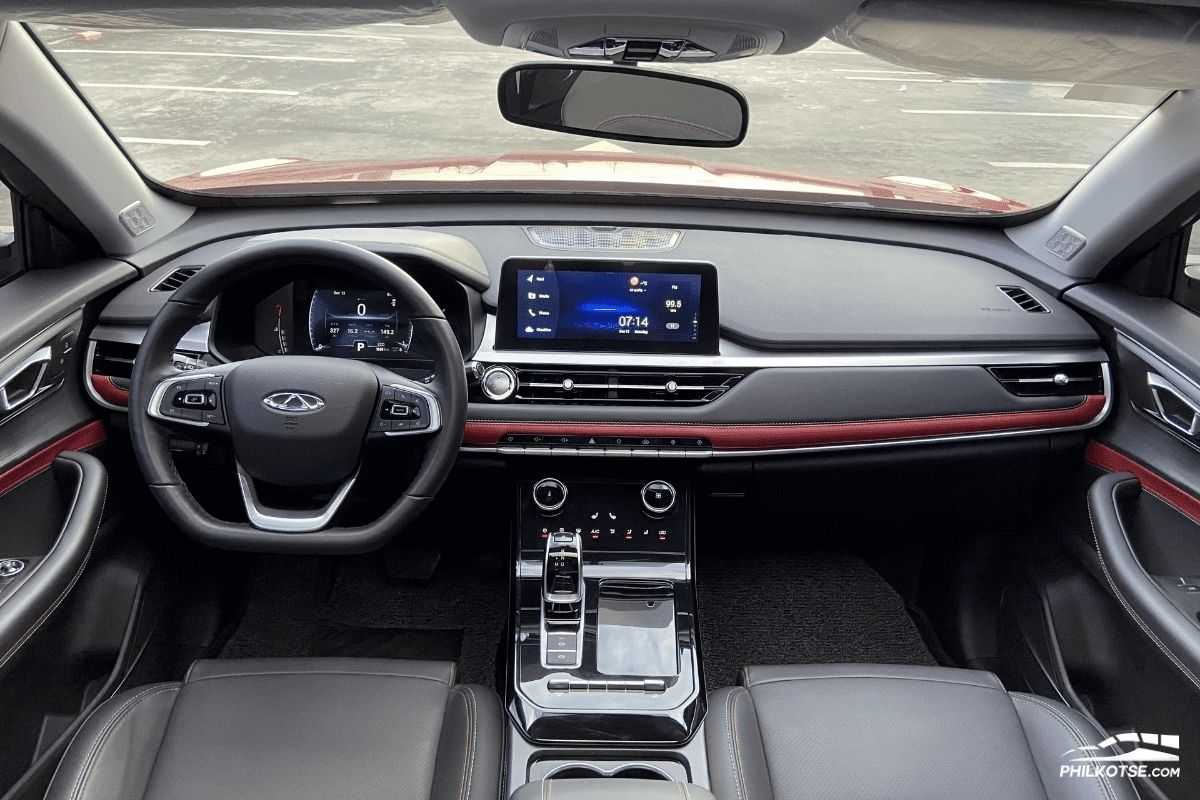 The interior of the Chery Tiggo 7 Pro
The default instrumentation on the Coolray Sport and Tiggo 7 Pro is of the digital kind, complemented by other conveniences such as push-button start, cruise control, and rain-sensing wipers. For on-board entertainment, both models are equipped with a 10.25-inch touchscreen head unit which counts USB and Bluetooth among its connectivity options.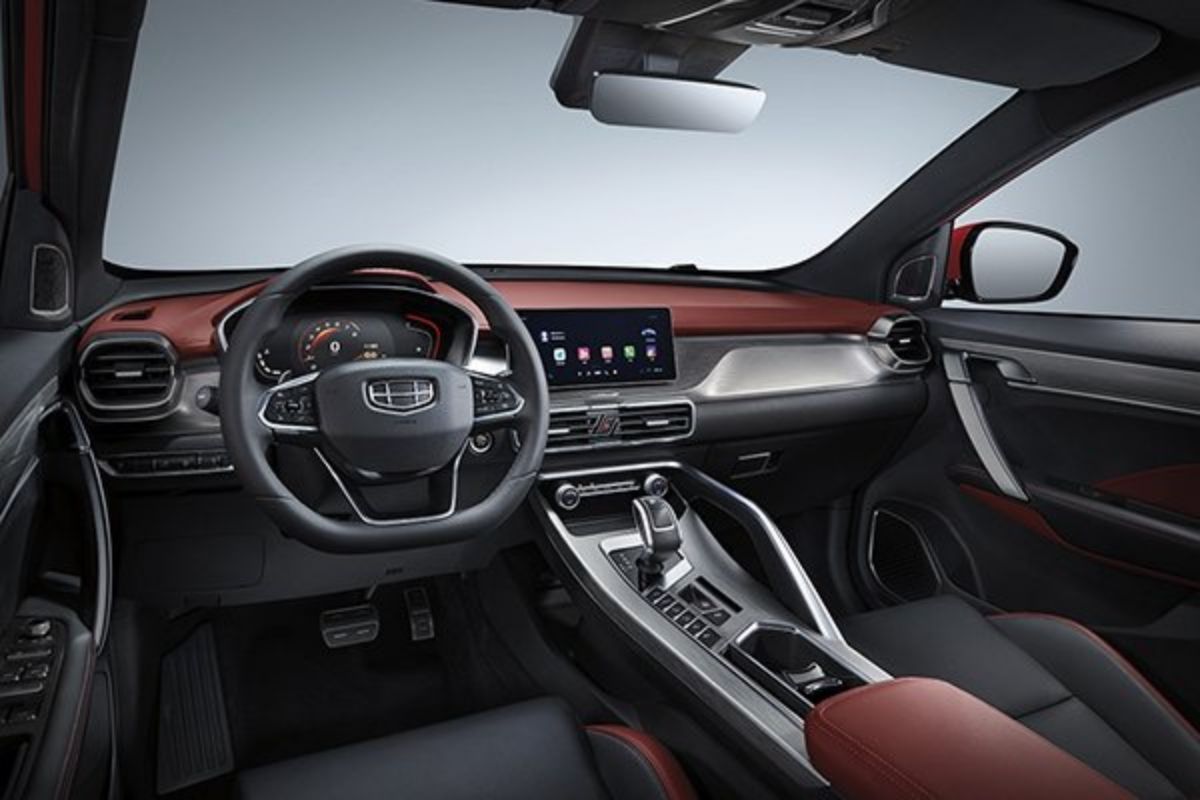 Inside the Geely Coolray Sport
The Tiggo 7 Pro's infotainment touchscreen comes with Apple CarPlay and Mirror Link for Android. The Coolray Sport does not have that feature but iPhone users can mirror their smartphone's screens by using the USB port, while Android users need to download the QD Link app from Google Play.
For speakers, the Tiggo 7 Pro has more at six, while the Geely Coolray Sport has four.
4. 2021 Chery Tiggo 7 Pro vs Geely Coolray Sport: Engine and Performance
Under the hood, the Chery Tiggo 7 Pro is equipped with a naturally-aspirated 1.5-liter four-banger that provides 145 horsepower and 210 Nm of torque. A continuously variable transmission spins the front wheels, with manual mode actuated by the gearshift lever.
The Geely Coolray is equipped with a 1.5-liter turbocharged inline-3 gasoline engine, capable of 177 horsepower and 255 Nm of torque. Power is routed to the front wheels through a 7-speed dual-clutch automatic gearbox, equipped with paddle shifters for more spirited driving.
For suspension, both vehicles make use of MacPherson struts to buoy the front ends. The Coolray Sport has a lighter torsion beam setup at the rear, while the Tiggo 7 Pro rides on a multi-link rear suspension that allows it a greater degree of flex over varying road conditions. Disc brakes are standard on both models.
| | | |
| --- | --- | --- |
| Specs | Geely Coolray Sport | Chery Tiggo 7 Pro |
| Engine | 1.5-liter inline-3 turbo | 1.5-liter inline-4 |
| Fuel | Gasoline | Gasoline |
| Horsepower | 177 | 145 |
| Torque | 255 | 210 |
| Transmission | 7-speed DCT | CVT |
5. 2021 Chery Tiggo 7 Pro vs Geely Coolray Sport: Safety
Each crossover features an array of passive and active safety equipment, including anti-lock brakes with electronic brakeforce distribution, stability and traction control, front and rear proximity sensors, and a 360-degreee view camera to reduce blind spots. Front, side, and curtain airbags are standard on both models, as well as an engine immobilizer and tire pressure monitoring system.
One novel feature that the Coolray Sport has is its active park assist feature, activated by pressing a single button on the console. However, this can be used only when the vehicle is positioned near a vacant parking slot.
6. 2021 Chery Tiggo 7 Pro vs Geely Coolray Sport: Variants
| | |
| --- | --- |
| Chery Tiggo 7 Pro Variants | Price |
| Tiggo 7 Pro 1.5 CVT | Php 1,198,000 |
>>> Find the hottest Chery promos
| | |
| --- | --- |
| Geely Coolray Variants | Price |
| Coolray Comfort 1.5 DCT | Php 978,000 |
| Coolray Premium 1.5 DCT | Php 1,088,000 |
| Coolray Sport 1.5 DCT | Php 1,198,000 |
The Chery Tiggo 7 Pro and the Geely Coolray Sport pack a plethora of features for their respective price. The Tiggo 7 Pro offers a classy appeal along with a more spacious interior. The Coolray Sport, on the other hand, comes with a sporty appeal inside and out.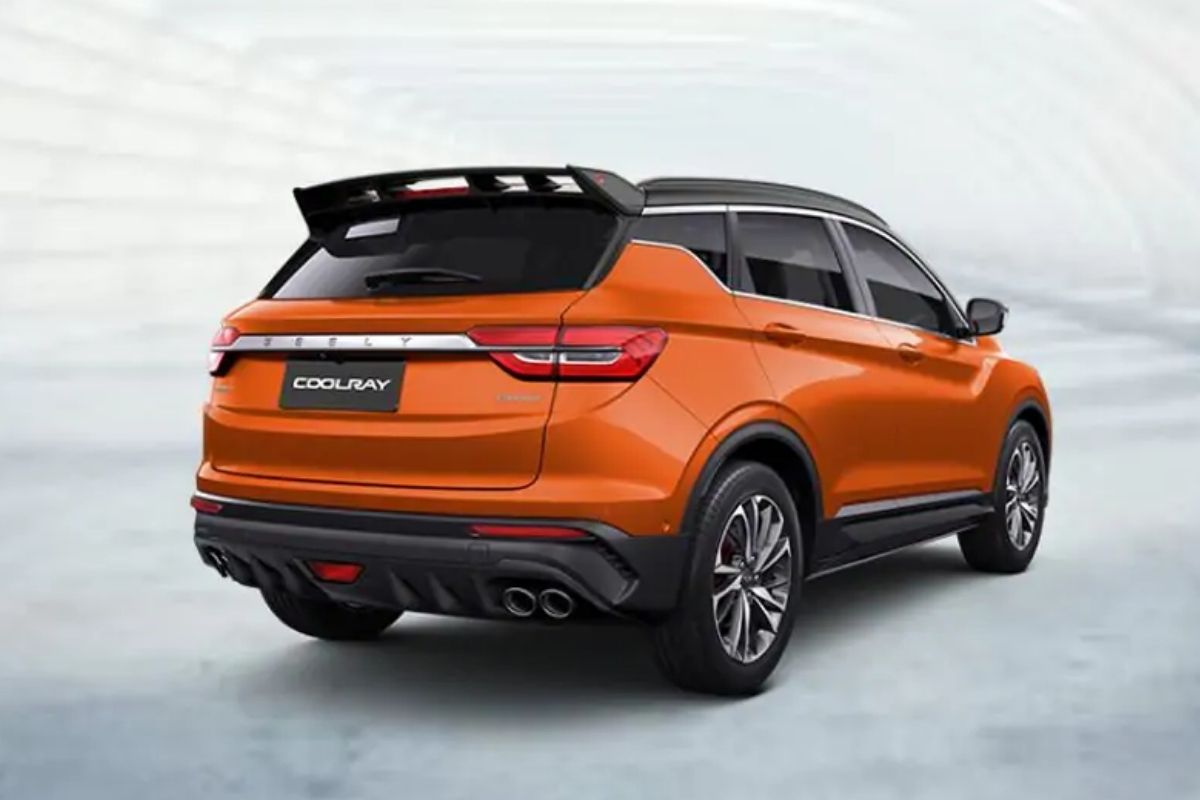 Which rear end strikes your fancy?
Although they're at similar price points, the difference is likely in each vehicle's positioning. Novelties such as auto parking assist and driving modes that change the instrument panel's colors appeal to the Geely Coolray Sport's more adventurous nature. Meanwhile, the Chery Tiggo 7 Pro offers a more stable and refined driving experience, mainly with the 4-cylinder engine mated with a CVT.  Both offer a whole lot of crossover for less money than it would cost more mainstream offerings, and it all boils down to which persona buyers are more inclined to live with on a daily basis.
For more comparison articles like this, keep reading here on Philkotse.com.