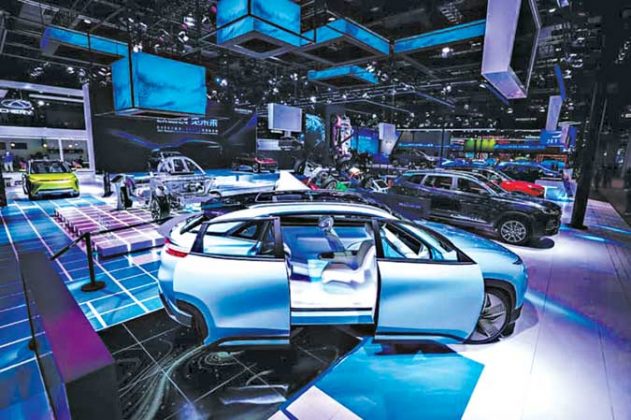 This Chinese automaker is looking far into the mobility horizon by pushing the tech envelope
THE GLOBAL brand Chery has, over the last 20 years, invested handsomely in vehicle technological design and development; and among its latest public revelations were some groundbreaking concept cars displayed at the recently held Shanghai Auto Show. These creations solidified the Chinese manufacturer's latest brand positioning, which is to lead in ushering in smart and green travel options to motorists around the world.
Recently showcased on a global stage were its Little Ant Z and Big Ant X concept cars, which highlighted the electronic architecture of Chery's so-called New Energy Division. This division aims to create intelligent, low carbon-emitting, advanced vehicles that are both centered on safety and versatility for the constantly changing needs of its end users and in their respective environments. And the latest innovations focus on full-domain smart cars which are built on the brand's @Life platform — which also made its debut at the 2021 Shanghai Auto Show.
The Little Ant Z is so named because it was created while keeping Generation Z drivers in mind. The vehicle is Chery's first mass-produced model that already incorporates Chery's L2.99 intelligent-aided system. Meanwhile, the Big Ant X is equipped with V2X technology, 5G mobile internet, an L4 intelligent assistant driving system, and a futuristic kind of intelligent cabin that can delight its passengers with some out-of-this-world surprises.
Furthermore, Chery also presented its Chery 4.0 Era Global Power Architecture alongside its fuel, hybrid, and hydrogen power solutions. In the realm of internal combustion, Chery highlighted its latest turbocharged gasoline direct-injection (TGDI) drivetrain — a 2.0-liter TGDI engine which boasts maximum power of 257hp and peak torque of 400Nm — which is now carried in the latest vehicles and will be carried in Chery's future lineup of cars.
Chery has also invested in plug-in hybrid electric vehicles (PHEVs), highlighting its DHT — a full-function hybrid. In China, it is equipped with the first dual-motor drive with nine working modes, 11 combined gears and a TSD dual-shaft drive. Chery has also committed to releasing its Chery 4.0 Era Global Power Architecture in the near future.
In a conversation with Chery Philippines President Rommel Sytin, he proudly shared with "Velocity" that, "In terms of car technology, the Chery brand has been waving its flag in the global automotive industry. This is all thanks to our headquarters' prestigious minds continuously working day and night to develop the design language and intelligence of Chery vehicles."
Locally, Chery has already introduced the Arrizo 5e New Energy compact sedan. Mr. Sytin describes it as "The very first mass-market, pure electric vehicle (EV) to be introduced for the Philippines." He further said that, "This five-seater uses regenerative braking to capture kinetic energy, and stores it in the battery as electrical energy. It can charge from 30% to 80% of its power in just 30 minutes under its fast-charge mode, and within seven to nine hours under slow-charge mode. One full charge can reach up to approximately 351 kilometers of travel — making it an environmentally friendly and reliable vehicle, even for long drives."
Generally speaking, Chery Auto focuses on selling four crossover products in the Philippines: the Tiggo 2 and Tiggo 5X, which are both subcompacts; the midsize Tiggo 8 which is a seven-seater; and its recently launched compact, the new Tiggo 7 Pro. All carry 1.5-liter, Euro 5-compliant engines, with the Tiggo 8 and Tiggo 7 Pro enjoying the turbocharged version of this engine. All these models are also equipped with tech that stand out from the rest of their respective classes.
Furthermore, all locally sold Chery models come with an impressive 10-year/one-million-km engine warranty (whichever comes first), alongside a five-year general warranty and three-year free PMS. As a bonus, they are also packaged with free three-year roadside assistance.
At the end of the day, Rommel Sytin assures that "Chery Auto Philippines remains confident in its brand promise to bring tech-packed, full-featured and totally upgraded products suitable for Filipinos' lifestyle and reach."