MANILA: The members of the Chery Tiggo Crossover Volleyball Team took the all-new Chery Tiggo 7 Pro on a test drive and, just like many Filipinos, they were impressed by the vehicle's state-of-the-art features and smooth performance on the road.
The Tiggo 7 Pro is designed with a striking exterior look, accentuated by its bold grille and premium LED headlamps. It also comes with LED fog lamps and daytime running lights (DRLs) for better visibility.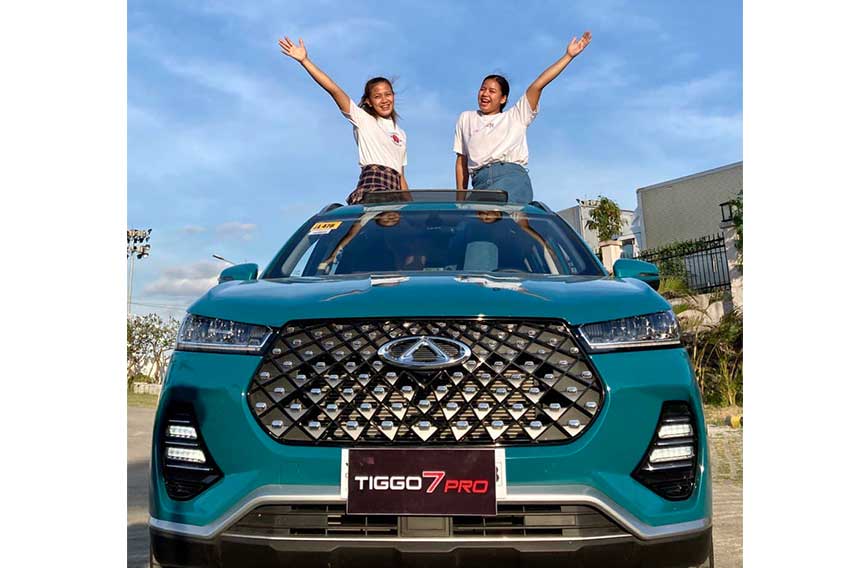 Chery Tiggo middle blocker Rachel Austero shared, "I just love the overall look! From the color and glossy finish to the details, to the alloy wheels and headlights that make it look more luxurious! The grille and styling? Super sporty!"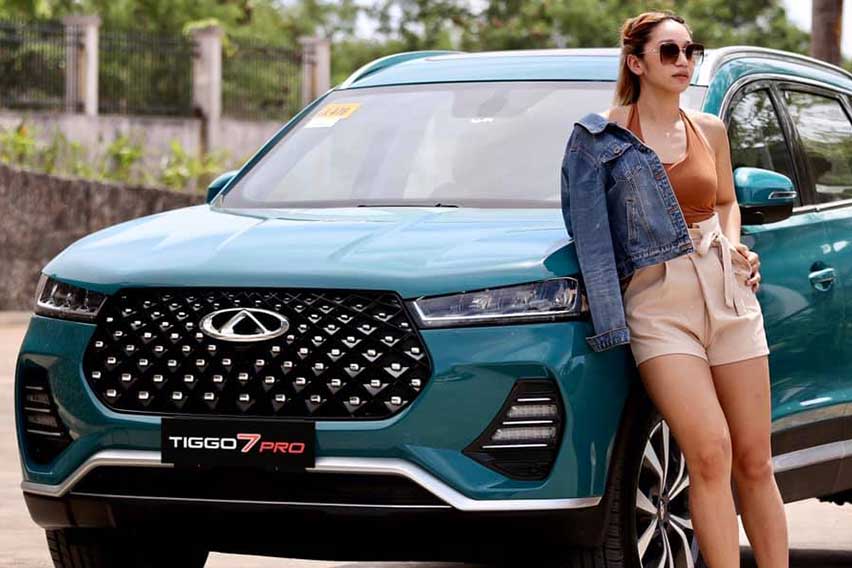 Meanwhile, outside hitter EJ Laure was impressed by how the Tiggo 7 Pro is packed with various features that are highly functional for her family. "I prioritize comfort and space in a car, especially as I have a baby, so when we rode the Tiggo 7 Pro and felt its smooth ride, quiet and spacious cabin, plus the cool air-conditioning, we were so happy!" said Laure.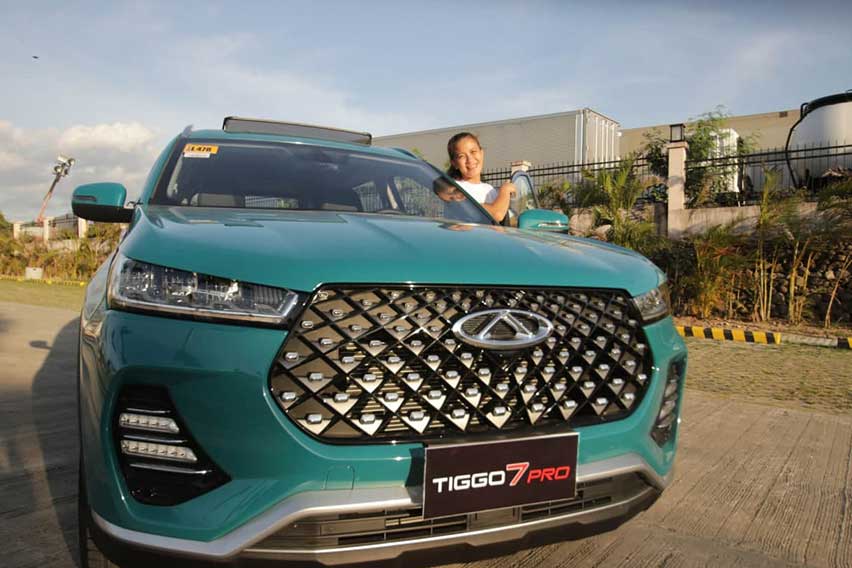 On the inside, the Tiggo 7 Pro is equipped with a 10.25-inch touchscreen infotainment display that has Bluetooth, Mirror Link, Android Auto, Apple CarPlay, and USB connectivity. It also comes with six speakers. The vehicle's air-conditioning system can also be controlled through the infotainment display.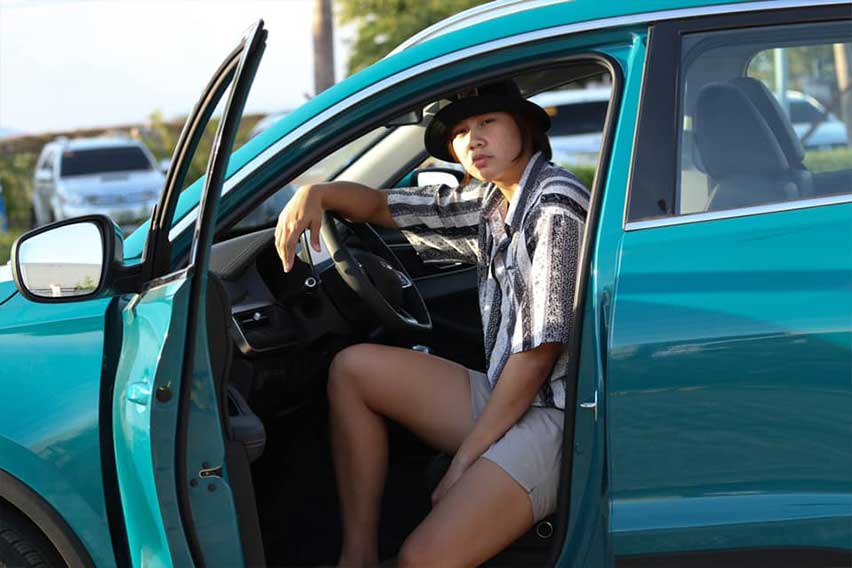 "What excites me the most is the Tiggo 7 PRO Smart Key! It allows you to start the car's engine remotely, controls the A/C, windows, and even doors! I think it's made for lazy people like me! It also has a built-in wireless smartphone charger! You don't have to untangle your cords anymore! Just place it there while checking directions via Waze," Austero added.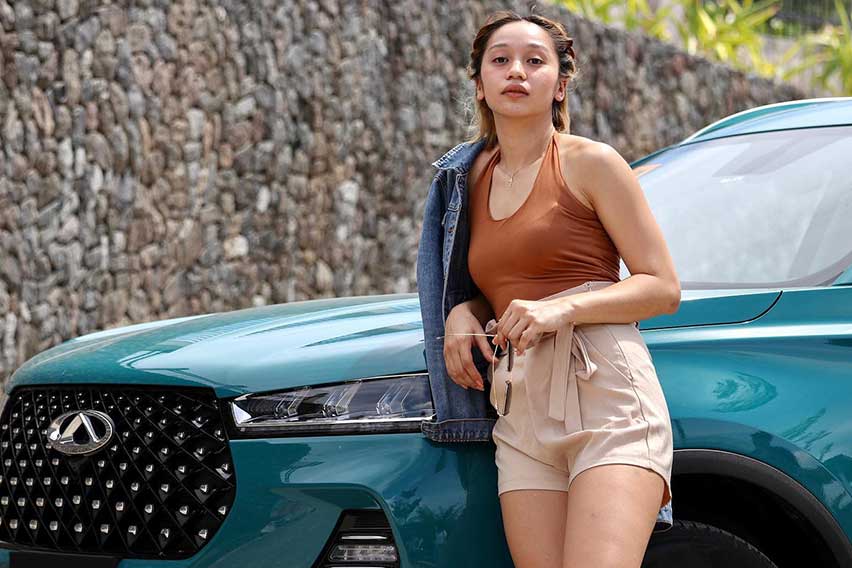 The athletes were also impressed by the Tiggo 7 Pro's premium features including the 1.1 square meter panoramic sunroof, multi-color cabin ambient lighting, 360-degree HD camera-around view monitoring, power tailgate, push-button electronic parking brake, tire pressure monitoring system, rear camera with front and rear proximity sensors, and the fully digital instrument cluster.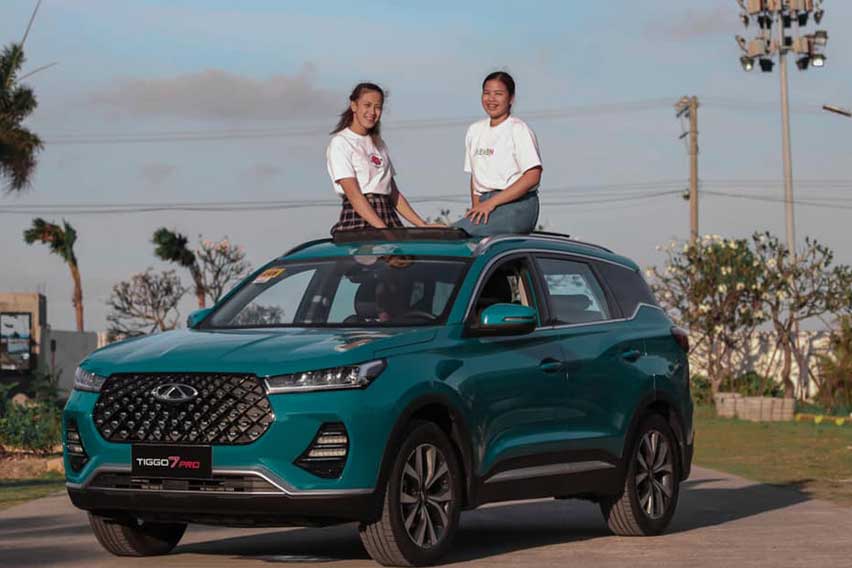 Chery Tiggo outside hitter Eya Laure exclaimed, "I'm excited about the automatic power tailgate, wireless mobile charging, and the huge panoramic sunroof! What I love most is the sunroof which allows you to feel and appreciate the wind and the beauty of nature. It provides that fairytale movie-like experience."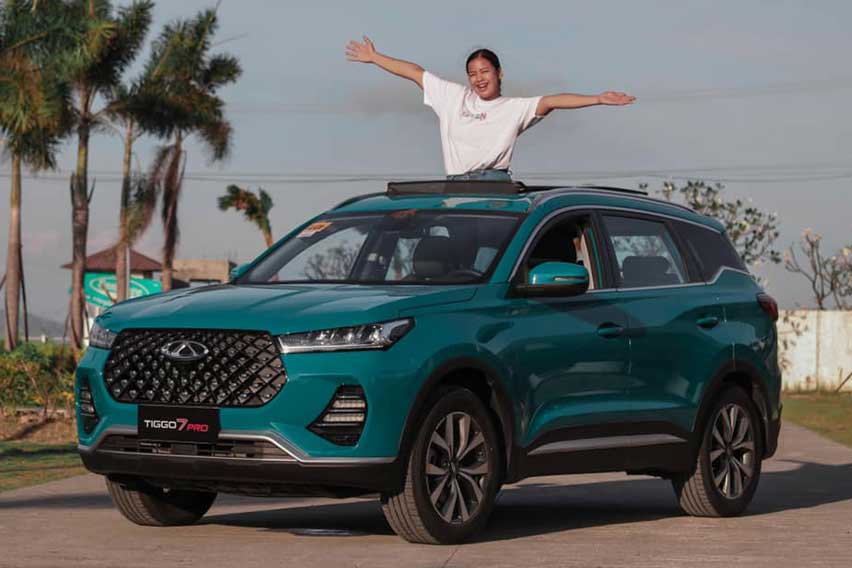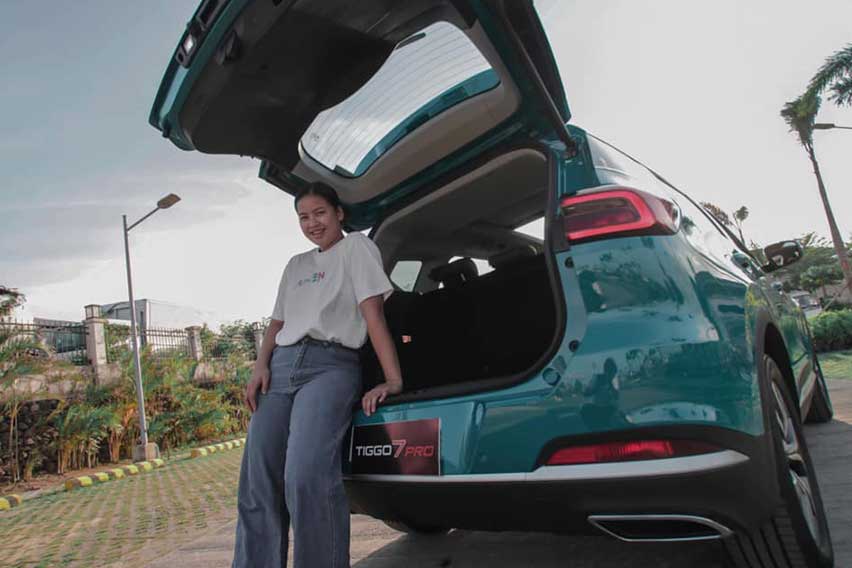 Austero also commented on how the cozy leather seats make for a soothing ambience, which is perfect for athletes like them who needs to rest and relax after their training and workout sessions. "It's got great legroom—perfect for us tall players," she added.
The Chery Tiggo 7 Pro is motivated by a 1.5-liter turbocharged DOHC 16-valve Euro 5-compliant four-cylinder engine mated to a continuously variable transmission (CVT).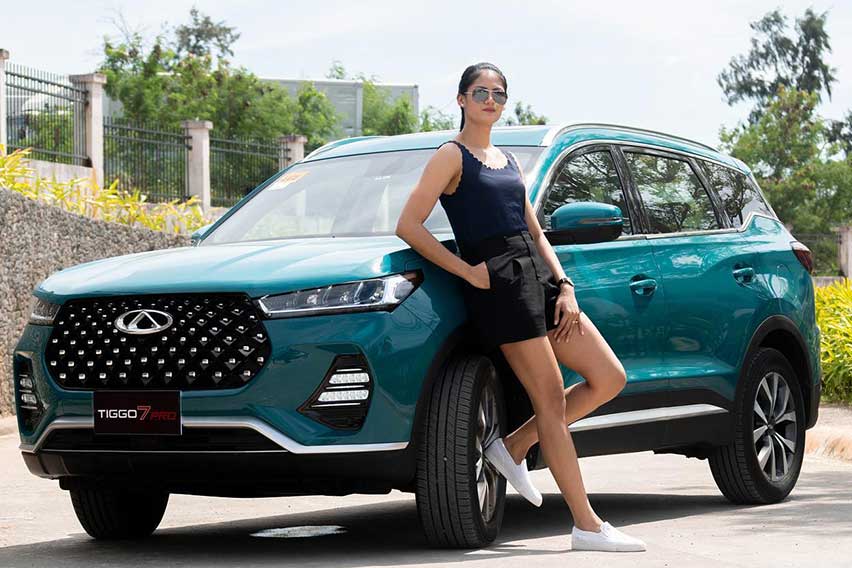 Dindin Santiago-Manabat exclaimed, "The steering is light; it's very comfortable yet sporty to drive. The interior is very spacious and quiet and has advanced features. I'm amazed by the 360-degree camera, front and rear parking sensors, and power tailgate, which makes parking and loading cargo very easy."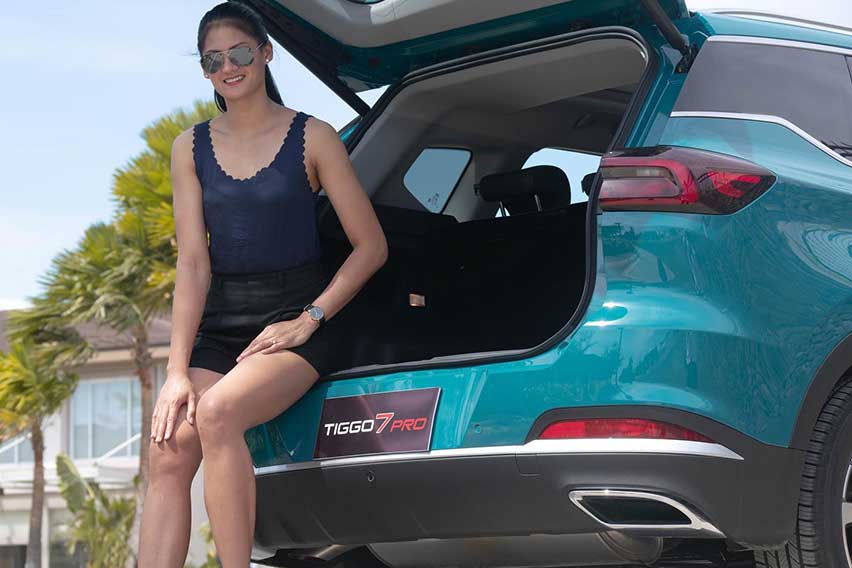 Meanwhile, middle blocker Maika Ortiz said, "The Tiggo 7 Pro is smooth to drive and can run with bigger, more powerful cars. Gear shifts are very smooth and the engine is so silent. It's one of the best-performing cars that I've ever driven—really solid!"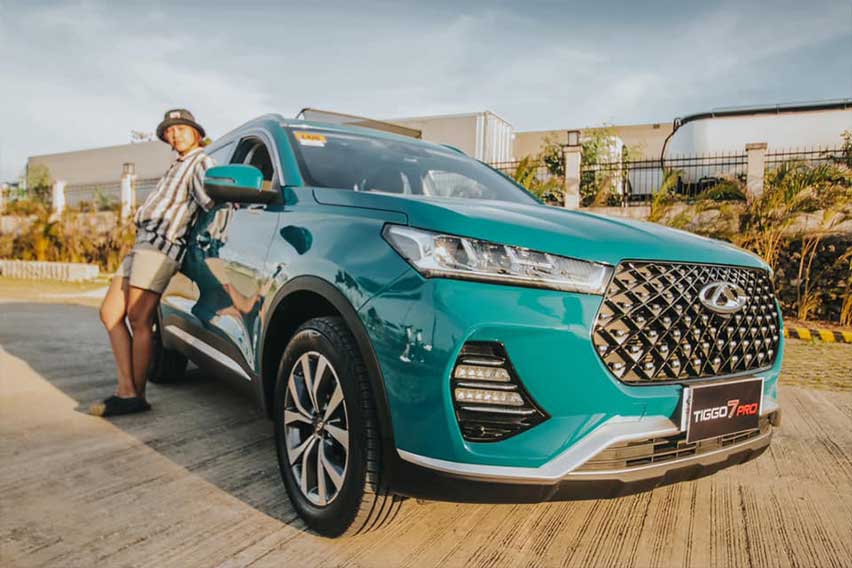 The exceptional power of the Tiggo 7 Pro is comparable to outstanding performance on the court of the Chery Tiggo Crossover volleyball players, who recently announced that they are transitioning from the Philippine SuperLiga (PSL) to the country's professional Premier Volleyball League (PVL).
The Chery Tiggo 7 Pro is also best known for its modern safety features including anti-lock braking system (ABS), electronic brakeforce distribution (EBD), electronic stability program (ESP), electronic brake assist (EBA), traction control system (TCS), hill assist control (HAC), hill descent control (HDC), and Isofix child-seat anchors.
The all-new Tiggo 7 Pro was launched in the country in late January and quickly got sold out in February.
In a statement, Chery Auto Philippines President Rommel Sytin said, "We are happy to see such strong demand for the all-new Chery Tiggo 7 Pro. We had high expectations for this model with its upmarket good looks backed up by a generous set of luxury and safety features, and we were not disappointed by consumer response."
Every purchase of the Tiggo 7 Pro comes with a 10-year or one million-km engine warranty, a five-year or 150,000-km general vehicle warranty, free three-year preventive maintenance service (PMS), and free three-year roadside assistance. The Chery Tiggo 7 Pro comes in four color variants: Brilliant Teal, Radiant Red, Blazing Black, and Sport White. Prices start at P1.198 million.
To learn more about the Chery Tiggo 7 Pro, log on to www.cheryauto.ph or download the Chery Auto PH mobile app from App Store or Google Play. Follow the official social media pages of Chery Auto Philippines (@cheryautophilippines) and Chery Tiggo Crossovers volleyball team (@cherytiggocrossoversph).
Source: 2021, March 24. Chery volleybelles share their Tiggo 7 Pro experience. Retrieved from Zigwheels.ph. Authored by Hazel Nicole Carreon.